Brutalism has been catching flack for far too long, and it's refreshing to see a take on Brutalism from someone (else) who appreciates the architectural style. Blake Gopnik wrote a lovely reflection called "Growing Up in a Concrete Masterpiece," on Moshe Safdie's Habitat '67 in Montreal, which came out in the May 4, 2017 edition of The New York Times.
BrutalistDC founder Deane Madsen was lucky enough to be interviewed for the piece, and a short snippet of that conversation was included in Gopnik's piece: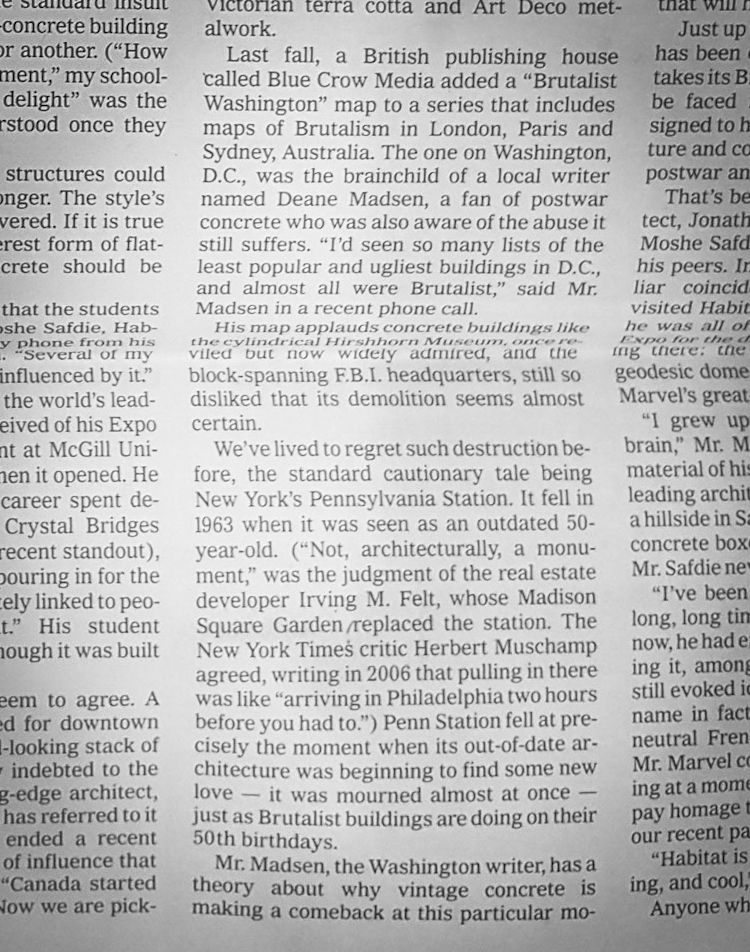 Last fall, a British publishing house called Blue Crow Media added a "Brutalist Washington" map to a series that includes maps of Brutalism in London, Paris and Sydney, Australia. The one on Washington, D.C., was the brainchild of a local writer named Deane Madsen, a fan of postwar concrete who was also aware of the abuse it still suffers. "I'd seen so many lists of the least popular and ugliest buildings in D.C., and almost all were Brutalist," said Mr. Madsen in a recent phone call.

His map applauds concrete buildings like the cylindrical Hirshhorn Museum, once reviled but now widely admired, and the block-spanning F.B.I. headquarters, still so disliked that its demolition seems almost certain.
Read Blake Gopnik's full "Growing Up in a Concrete Masterpiece" in The New York Times.