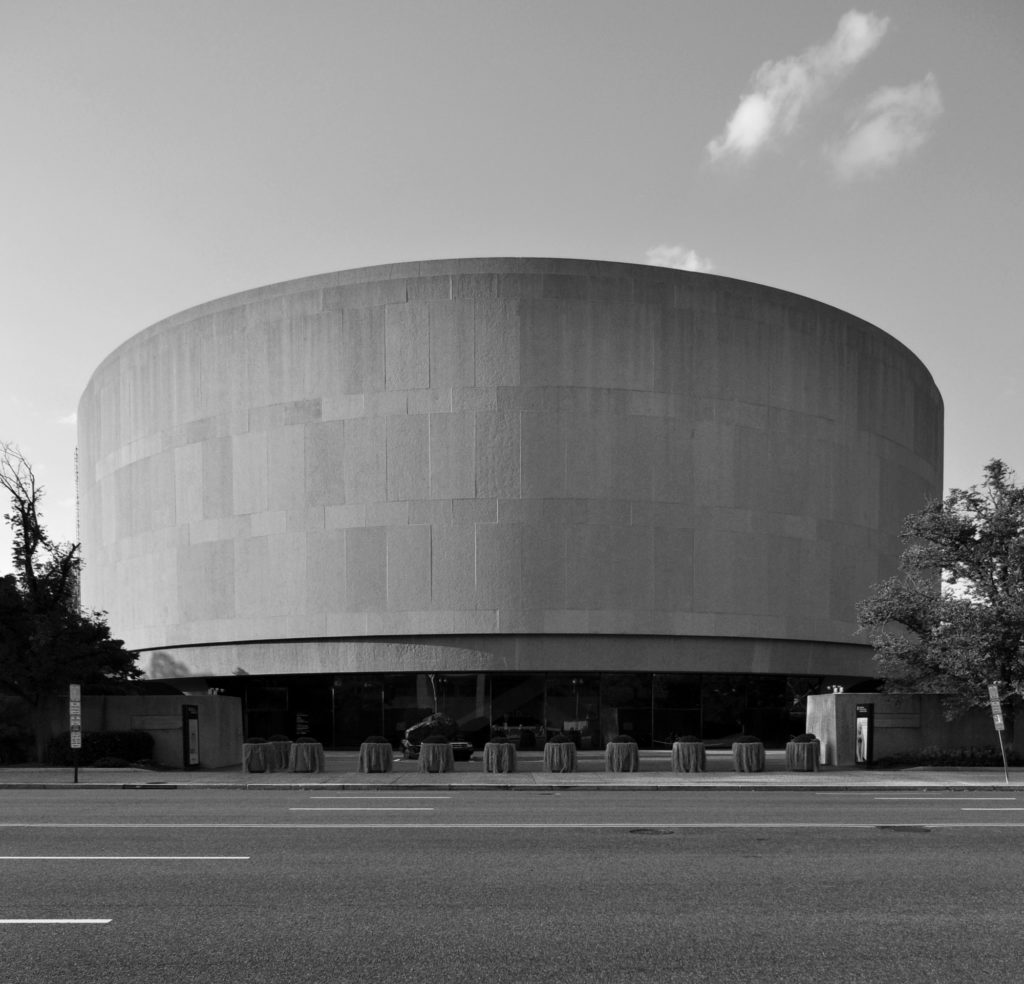 The Hirshhorn Museum, Washington, D.C.'s "Brutalist Donut," has announced a World Architecture Day celebration set for October 3, 2016, with locally-made donuts and architecture tours. BrutalistDC founder Deane Madsen has been invited to lead an architectural tour in collaboration with @WalkWithLocals, a Washington, D.C.-based photography meetup group that regularly hosts photography walks in and around the capital city.
Read the full release from the Hirshhorn below:
September 20, 2016—
Visitors are invited to the Smithsonian's Hirshhorn Museum and Sculpture Garden Monday, Oct. 3, to celebrate #WorldArchitectureDay by enjoying "Donuts with the 'Brutalist Donut'"—a day of complimentary donuts and free architecture tours of its iconic circular building.
Tours by experts, including the Atlantic's Kriston Capps and Architect's Deane Madsen, will reveal the genius of the Hirshhorn's unique spaces and how the museum's rebellious, modern style changed ideas of design. Then, visitors can enjoy a delicious Hirshhorn-inspired donut from Zombie Coffee and Donuts, created especially for this day (while supplies last).
A new special session, ARTLAB+ Storytime at 10 a.m., invites the museum's youngest visitors ages birth to preschool, to enjoy a read-aloud of the children's book Iggy Peck Architect and a hands-on building activity. Nursing moms and strollers are welcome.
Affectionately nicknamed the "Brutalist donut," the Gordon Bunshaft-designed Hirshhorn, the Smithsonian's museum of modern art, is one of the most celebrated examples of the Brutalist architectural style that flourished during the 1950s–1970s. Other well-known local Brutalist landmarks include Washington's Metro stations and the J. Edgar Hoover (FBI) Building.
10 a.m. tour: ARTLAB+ Storytime for young visitors birth to preschool and their caregivers
Noon tour: Critic Kriston Capps (@kristoncapps) writes for the Atlantic's CityLab on art, architecture and the shape of cities today. The public can join online via FacebookLive at facebook.com/thisiscitylab.
3:30 p.m. tour: Gallery-guide tour of architecture-inspired artwork in the Hirshhorn's collection.
6 p.m. tour: Deane Madsen (@deane_madsen) is the associate editor of Architect magazine and runs @brutalistDC, an Instagram celebration of the District's concrete masterpieces.